Looking for information about ProntoForms features and functionality? Visit our Product Documentation Portal.
Error:
"This device has become inactive and can no longer be used. Please contact ProntoForms support for more details."
This error may occur either when attempting to perform a send/receive with ProntoForms, or when attempting to log in.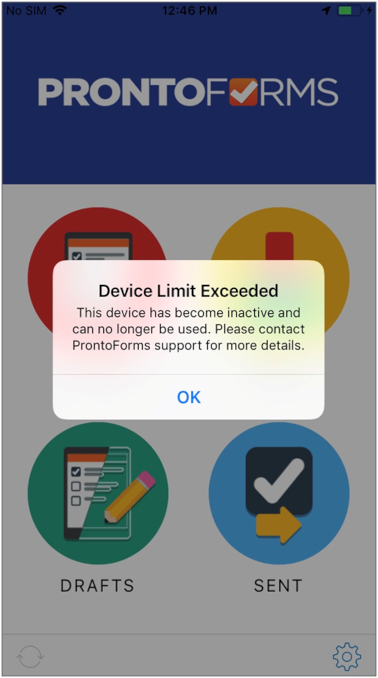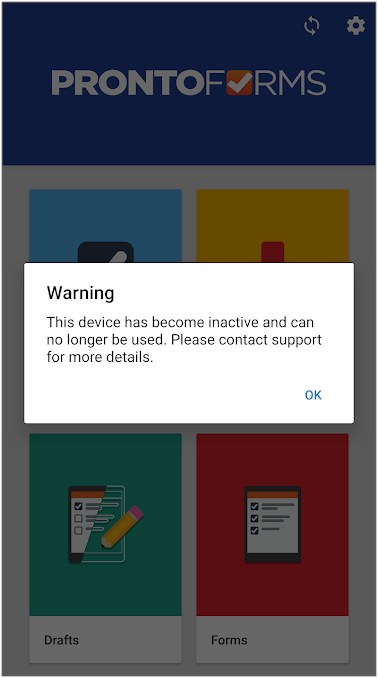 Symptoms:
If this error occurs, the user will not be able to perform a send/receive with ProntoForms; no form definitions can be downloaded, and no data can be submitted to the ProntoForms servers. The user will still be able to access and fill out forms previously downloaded to the mobile device, but this is not recommended as the form definitions may be out of date, which can cause inaccuracies or errors in the data record once it is successfully submitted.
Any forms filled out can be saved to Drafts, but any forms submitted will remain in the user's Outbox until the device is made active. Forms in the Drafts or Outbox screens can be submitted once the device is made active again, but please note that these forms are only saved locally to the device until successfully received by the ProntoForms servers.
Cause:
Most ProntoForms accounts are intended for use on one mobile device; by default, users may have up to three devices "active" at any one point. When an additional device accesses your ProntoForms account, the oldest device is deactivated. The above error appears any time the user has registered more than three devices, and is attempting to use a device that is not the most recent device the user has registered with the account.
Steps to resolve:
Please contact the ProntoForms Support team by either emailing support@prontoforms.com, submit a request to the ProntoForms Support Team, or call ProntoForms Support at +1-888-762-7472. The Support team can reactivate the device of your choice.
Be sure to include the following information:
The error message you are receiving ("Device not Allowed," "Device has become inactive," or "Multiple Devices" is fine).
Your name, and your ProntoForms username.
The device that you would like to continue using ProntoForms with.